Dokumentationen und Filme rund um das Thema Fitness und Ernährung werden immer beliebter. The Game Changers beleuchtet anhand wissenschaftlicher Erkenntnisse und durch Erfahrungsberichte von Spitzensportlern die Vorteile fleischloser Ernährung für Sport und Gesundheit.
Darum geht's: Benötigt man tierisches Eiweiß, um als Spitzensportler Top-Leistungen zu erbringen? James Wilks , UFC Fighter und Nahkampftrainer der US-Navy-Seals, ist von einer Verletzung geplagt und beginnt zu recherchieren, ob eine fleischlose Ernährung ihn beim Regenerationsprozess unterstützen kann. In Gesprächen mit Ärzten und Top-Athleten stößt er dabei auf interessante Fakten über die Vorteile von fleischloser Ernährung.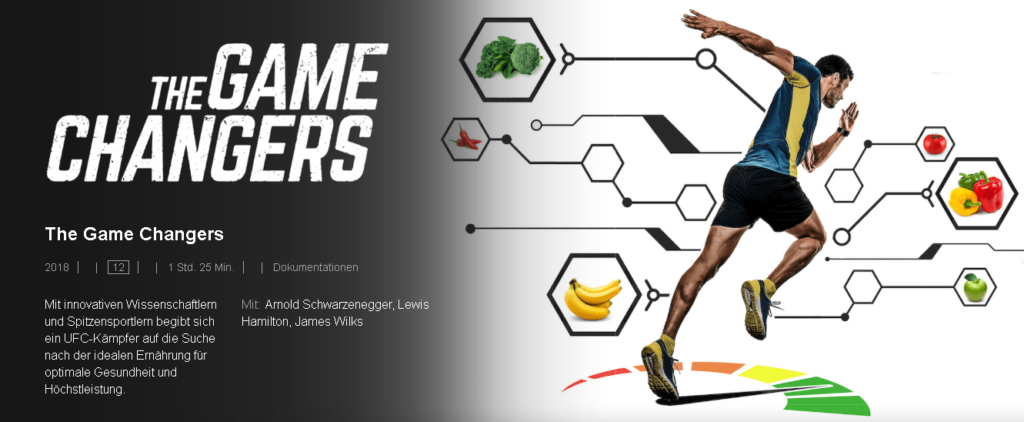 Spitzensportler die sich fleischlos ernähren
Vegan Topleistungen im Sport zu erzielen, ist nicht möglich. Diese Meinung hat sich zumindest in den letzten Jahren immer mehr in den Köpfen festgesetzt. Aber stimmt das auch?
Die ersten Top-Athleten, die sich vorwiegend vegan ernährten, sind, überraschenderweise Gladiatoren. Richtig gehört, Kämpfer, die vor mehr als tausend Jahren zur Belustigung der Massen um Leben und Tod kämpften, haben sich vegan ernährt! Über die Analyse von Knochen ist das Team rund um die Archäogenetikerin Christina Warinner zu dieser verblüffenden Erkenntnis gelangt.
Einer der stärksten Männer der Welt, Strongman Patrik Baboumian, ernährt sich vegan und konnte seit der Ernährungsumstellung sogar über 20 Kilogramm Masse aufbauen.
Die zweifache australische Siegerin über die 400-Meter, Morgan Mitchell und der olympische Gewichtheber Kendrick Farris ernähren sich ebenfalls vegan.
Profi Bodybuilder Nimai Delgado und Fitness-Model Mischa Janiec ernähren sich fleischlos und verfügen über eine beeindruckende Muskelmasse
Auch Profi-Footballspieler, Radsprinter und Ultra Marathonläufer werden in der Dokumentation vorgestellt. Sie alle haben eines gemeinsam: Sie sind begeistert von den Auswirkungen der veganen Diät auf Ihre Leistungsfähigkeit und Gesundheit.
Wissenschaftliche Fakten statt stumpfer Parolen
Wer Angst vor einer zweistündigen veganen Missionierung hat, kann beruhigt werden: Im Gegensatz zu anderen Filmen und Dokumentationen liegt der Fokus bei The Game Changers bei den Vorteilen fleischloser Ernährung für Sportler. Ethische Aspekte werden zwar auch kurz besprochen, aber nur am Rande. Die Argumente für den Verzicht von Fleisch werden dabei von renommierten Ärzten und Forschern durch Studien belegt und sind keine bloßen Behauptungen.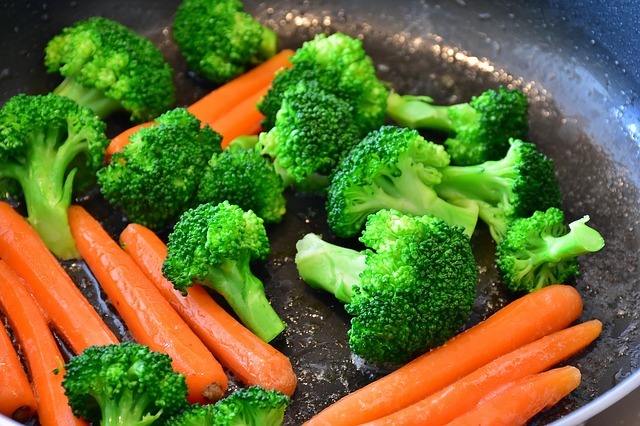 Fazit
Mit The Game Changers ist es den Produzenten gelungen eine Doku für alle, die sich mit der eigenen körperlichen Leistungsfähigkeit und Gesundheit auseinandersetzen zu drehen. Es ist wirklich interessant zu sehen, dass ausnahmslos alle Athleten von einer deutlich besseren Regeneration und Leistungsfähigkeit seit der Umstellung auf eine vegane Ernährung berichten. Die dazu angeführten wissenschaftlichen Studien geben zusätzlich zu denken. James Wilks, der den Zuschauer durch die Dokumentation begleitet, ist zudem sehr sympathisch und authentisch. Alles in allem eine wirklich empfehlenswerte Doku, besonders für alle Fitness- und Bodybuilding Freaks!
---
Du hast den Film bereits gesehen und interessierst dich für weitere Studien? In Beitrag über Spinat im Bodybuilding erfährst du, warum Popeye so viel davon gegessen hat 😉
Ich bin Pablo, 30 und trainiere seit mehr als 10 Jahren im Fitnessstudio und/ oder Outdoor. Seit 2015 arbeite ich zudem nebenbei als Fitnesstrainer.
Fitnesstrainer seit 2015
Schwerpunkt Muskelaufbau mit Calisthenics
Zertifizierter BLACKROLL® Recovery Expert
Auf Muskelaufbau.Coach teile ich meine Erfahrungen als Personal Trainer mit dir und helfe dir dabei deine sportlichen Ziele zu erreichen.